Philippines urged to compensate women survivors of wartime rape by Japanese soldiers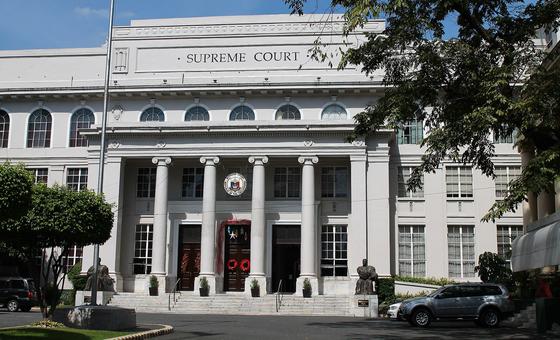 The Committee on the Elimination of Discrimination against Women (CEDAW) called for the authorities to provide full reparation and an official apology to the survivors, who have suffered decades of physical, psychological and other consequences. 
'Symbolic' victory 
"This is a symbolic moment of victory for these victims who were previously silenced, ignored, written off and erased from history in the Philippines," said Committee member Marion Bethel.   
"The Committee's Views pave the way for restoring their dignity, integrity, reputation and honour," she added. 
Fight for justice 
The decision stems from a complaint filed by 24 members of a non-profit organization called Malaya Lolas ("Free Grandmothers"), established to support sexual slavery survivors, commonly known within the Japanese armed forces as "comfort women". 
They had repeatedly asked the Government to support their claims against Japan for reparations, asserting that failure to fight for their cause had essentially resulted in ongoing discrimination that continues to this day. 
Repeated rape and torture 
The complainants were forcibly taken to the headquarters of the Imperial Japanese Army in San Ildefonso, Pampanga province, known as Bahay na Pula (Red House), on 23 November 1944. 
They were detained there for one day to three weeks and were repeatedly subjected to rape and other sexual violence, torture, and inhumane detention conditions. 
The women have endured long-term consequences, including physical injuries, post-traumatic stress, permanent damage to their ability to have children, and other harm that has impacted their relationships and social standing. 
Seeking UN support 
Despite consistently raising claims at the domestic level, their efforts were dismissed by the authorities. Their last action was turned down by the Supreme Court in 2014.  
Five years later, the survivors brought their case to the UN Committee, which monitors the Convention on the Elimination of All Forms of Discrimination against Women. 
They sought to establish that the Philippines had to fulfil its commitments under the treaty, which is also known as CEDAW. 
Breaching CEDAW Convention 
The Committee noted that the Philippines had waived its right to compensation by signing the Treaty of Peace with Japan, though underlining that it is a case of continuous discrimination.  
Members also observed that the Philippine Commission on Women had not addressed the institutionalised system of wartime sexual slavery, its consequences for victims and survivors, or their protection needs.  
They further noted that Philippine war veterans, mostly men, "are entitled to special and esteemed treatment from the Government, such as educational benefits, healthcare benefits, old age, disability and death pensions." 
The Committee concluded that the Philippines had breached its obligations under the CEDAW Convention, noting in particular that the authorities "had failed to adopt appropriate legislative and other measures to prohibit all discrimination against women, and protect women's rights on an equal basis with men." 
Restoring human dignity 
The Committee has requested that the Philippines provide the victims full reparation, including material compensation and an official apology for the continuing discrimination.  
"This case demonstrates that minimising or ignoring sexual violence against women and girls in war and conflict situations is, indeed, another egregious form of violation of women's rights. We hope that the Committee's Decision serves to restore human dignity for all of the victims, both deceased and living," said Ms. Bethel.