Nobel Prize for Narges Mohammadi highlights 'courage and determination' of Iranian women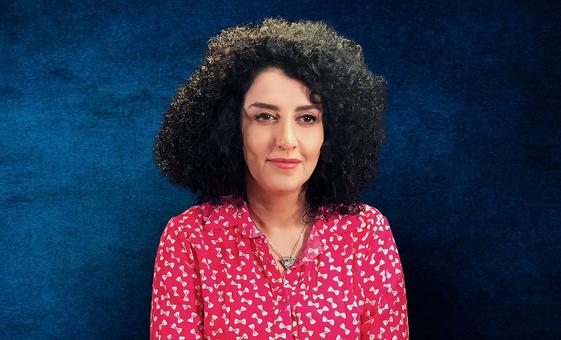 "I think what is absolutely clear is that the women of Iran have been a source of inspiration for the world. We've seen their courage and determination in the face of reprisals, intimidation, violence and detention," Spokesperson Liz Throssell told journalists in Geneva. 
"This courage, this determination, have been remarkable. They've been harassed for what they do or don't wear, there are increasingly stringent legal, social and economic measures against them."
Tribute to women activists
In a statement on the awarding of the Nobel Peace Prize to Ms. Mohammadi, UN Secretary-General António Guterres called it "an important reminder that the rights of women and girls are facing a strong pushback, including through the persecution of women human rights defenders, in Iran and elsewhere."
"This Nobel Peace Prize is a tribute to all those women who are fighting for their rights at the risk of their freedom, their health and even their lives," said the UN chief. 
Welcoming the announcement to award the 2023 Nobel Peace prize to Mohammadi, UN experts urged the government of Iran to free all those imprisoned for promoting women's human rights and protect the rights of women and girls in the country.
"The awarding of the 2023 Nobel Peace prize to a courageous journalist and woman human rights defender highlights the struggle of women against institutionalised systems of discrimination, segregation, humiliation and the exclusion of women and girls everywhere in the world," the UN experts said.
About Narges Mohammadi 
Ms. Mohammadi is currently serving a 16-year sentence in Tehran's Evin Prison. She has worked for many years as a journalist and is also an author and Vice-Director of the Tehran-based civil society organization Defenders of Human Rights Center (DHRC). 
In May she was awarded a prize that celebrates press freedom by the UN Educational, Scientific and Cultural Organization (UNESCO), along with two other imprisoned Iranian women journalists, in the context of the wave of protests surrounding the death of Mahsa Amini in police custody in September 2022. 
More UN reaction to follow.