Yemen: UN envoy welcomes mass prisoner release, urges push for political solution to war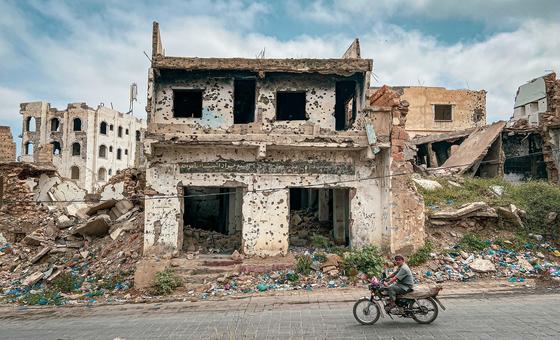 "Nearly 900 conflict-related detainees are being released by the parties in Yemen starting today, Friday, and over the course of three days," the Office of the Special Envoy of the Secretary-General for Yemen said in a statement.
"This release operation comes at a time of hope for Yemen as a reminder that constructive dialogue and mutual compromises are powerful tools capable of achieving great outcomes," Mr. Grundberg's office added.
Swiss connection
The development is in line with an agreement reached by the Supervisory Committee on the Detainees' Exchange Agreement, which announced the initiative at UN Geneva in March.
Facilitated by Special Envoy Grundberg and the International Committee of the Red Cross, the agreement involves the freeing of 887 conflict-related detainees, held over the course of more than eight years of clashes between Yemen's Government and Houthi opposition fighters that are widely believed to have killed thousands and created what the UN has described as the worst humanitarian emergency in the world.
"More releases" are planned once Yemen's warring parties meet in May, according to the Special Envoy's Office, which noted that the Red Cross is managing the release operation which includes flights between six airports in Yemen and Saudi Arabia to repatriate all prisoners.
Ramadan cheer
"Today, hundreds of Yemeni families get to celebrate Eid with their loved ones because the parties negotiated and reached an agreement. I hope this spirit is reflected in ongoing efforts to advance a comprehensive political solution," said Special Envoy Grundberg.
After highlighting that "thousands more families are still waiting to be reunited with their loved ones", the UN official expressed hope that the warring parties would "build on the success of this operation to fulfill the commitment they made to the Yemeni people" in talks in Sweden in 2018, "to release all conflict-related detainees and bring this suffering to an end".
Apart from carrying out prisoner exchanges, the two other main components of the Stockholm Agreement – endorsed by the UN Security Council under resolution 2451 (2018) – covered an agreement on the city of Hudaydah; the ports of Hudaydah, Salif and Ras Issa, and "a statement of understanding" on the city of Taiz.
In his statement, Special Envoy Grundberg also urged the parties "to immediately and unconditionally release all arbitrarily detained individuals and to adhere to international legal standards" regarding detention and fair trials.