Jennifer Aniston, Lisa Kudrow have 'Friends' reunion at Courteney Cox's Walk of Fame ceremony

Actor Courteney Cox was honoured with a star on the Hollywood Walk of Fame on Monday, and her felicitation ceremony turned out to be a Friends reunion as she was accompanied by her friends and Friends co-stars Jennifer Aniston and Lisa Kudrow.
Speaking at the event, Jennifer said that they were honoured to be there for Courteney and "to speak on your behalf as your co-workers, your friends, and your family, your sisters. And that's happened because we've known you for a very long time."
"It's been that way since we met almost 30 years ago," Lisa then said before Jennifer intervened, "No, not 30 years ago. That's a typo." The moment got a lot of laughs from the crowd, and Jennifer continued. "To be friends with Courteney is to be family with Courteney, and she is responsible for all of that. From the beginning of when we met her, she was immediately inclusive, warm, loving, and interested in everything about you. I was nervous when I met her because I was a big fan," she said.
"Courteney instilled into all of us, into our DNA, to support each other and to love one another; that actors need to support and love one another, not compete with one another. Those wise words have stayed with me. I learned them as a young 20-something-year-old actor and that really set me on my path as a young woman and being able to create relationships that I cherish to this very day," Jennifer added.
Lisa then said, "I really believe that it was that, and Courteney doing that, that really set us up to become one of the closest, most loving and supportive casts in the history of television."
"Courteney, we just want to say that we're deeply, deeply proud to know you. You are the definition of a truly beautiful, talented and, what's most important, a truly good and decent human being. Thank you for enriching our lives personally," added Lisa.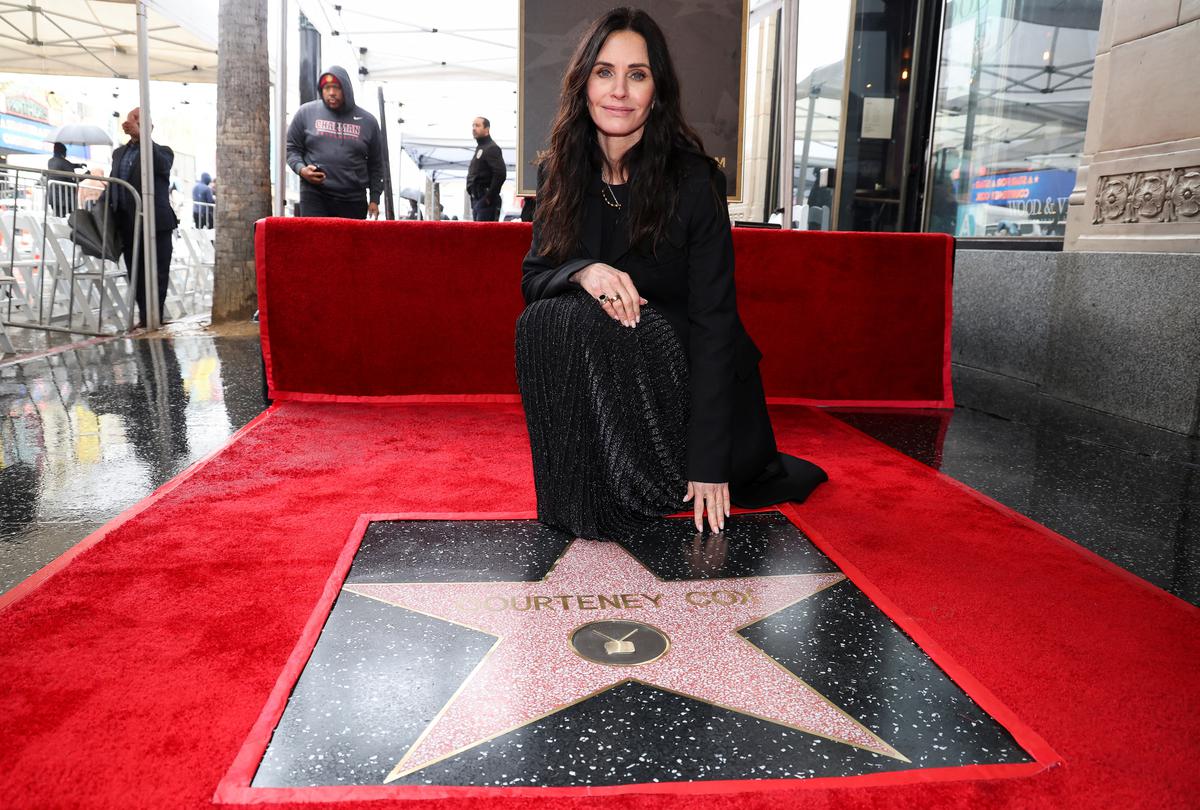 The two actors then went on to share their experiences while working with Courteney on Friends, on her OCD tendencies (something that she shares with her Friends character Monical Geller Bing), being a mother, and more.
Courteney seemed a bit nervous while receiving the Walk of Fame star, which is the 2,750th star in Hollywood. "Speaking in public terrifies me. It's why a lot of times I don't present things and why I am now holding onto Lisa and Jennifer."
She thanked her friends, family, staff, agents, and everyone behind her for getting the star – from publicist Melissa Kates to her assistant Tracy Reese. She then thanked her boyfriend McDaid and daughter Coco, who she said taught her to be a better person. The actor then got teary-eyed as she recollected a phone call with her father when she was a struggling actor. "He asked me to come home. He said 'You need to do what you do best: sell swimming pools.'
"The next day I got Family Ties. This will make me cry because I do love my dad, but I just want to say that I know he's really proud of me, and it does look like I'm here to stay," she said pointing towards her Walk of Fame star.