Gazans have 'no options' for safety as offensive continues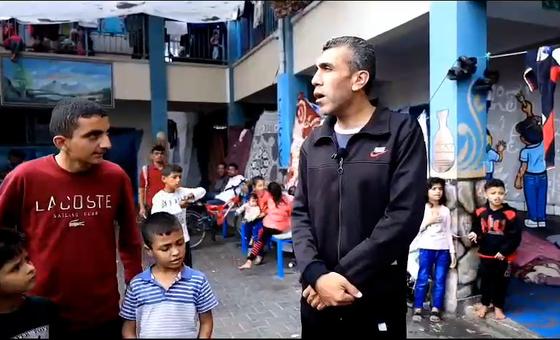 A tweet by the UN agency for Palestinian refugees, UNWRA on Monday, described the situation in shelters as "unliveable". It said that Gazans had "no options", echoing repeated warnings from UN humanitarians nowhere is safe for civilians in Gaza.
Since Hamas's terror attacks on Israel on 7 October that claimed around 1,200 lives with nearly 240 hostages captured, hundreds of thousands of Gazans have fled south, following an evacuation directive from the Israeli military.
Astonishing exodus
Satellite images of the exodus showed a mass of people moving across a landscape of shattered buildings, while photographs taken at ground level showed families carrying their belonging on foot and a woman dragging two babies in car seats behind her.
In an update on Sunday, Tom White, Director of UNRWA Affairs, told US network ABC that 13 UNRWA sites where people had been "sheltering under the UN flag" had been "directly hit" since 7 October, while "countless other shelters" had suffered "collateral damage" – many of them in the south of Gaza, where civilians had been told to flee.
Dozens killed in shelters
Mr. White said that 73 people had been killed in UNRWA shelters to date, "a large proportion of them in the south".
"The reality is the Gazans have got nowhere to go for safety and they are all exposed to the threat of fighting and particularly airstrikes," the UNRWA official said.
According to the UN agency, more than 880,000 internally displaced have sought shelter in 154 UNRWA installations across all five of Gaza's governorates. Out of Gaza's 2.3 million people, 1.7 million are now displaced.
To date, 104 UNRWA staff have been killed along with at least 11,000 people in Gaza according to health authorities.
"Houses have been hit all across the Gaza Strip," said UNWRA's Mr. White, who said that people's main concern was, "If they're in the north or in the south, are they safe?"
More to come on this story…